Choose the exclusive villa for your holidays in Tuscany
Are you planning a holiday in Tuscany with your family or your friends?

Do you love comforts, elegance and breathtaking views? Pisa, Florence, Siena, Chianti, Val d'Orcia are just some of the famous places you can visit during your trip to Tuscany. These names evoke the perfect combination of art and nature and in Tuscany it reaches its peak.

And when it comes to perfection, the choice of your accommodation can not be accidental.

Trust our local experts: we are sure we can help you in selecting the perfect property for an unforgettable holiday in Tuscany.

We have selected for you the best luxury villas in Tuscany for a dream holiday in one of the most beautiful and popular places in the world.
We offer a fine selection of luxury villas with swimming pool and in the most famous art cities of Tuscany in the countryside among hills, vineyards and olive groves.

For years in the industry, our agents are always contactable by phone or email and will answer to all your questions in a short time.

They can find the best villas to suit your needs and will inform you about special offers, negotiate the price for you and offer the most advantageous conditions.

Not only that, the wide selection of luxury villas in Tuscany we offer and the accurate knowledge of each of them means the best possible assistance during the booking.

If you want a villa with a few stairs because there are older people with you, if the pool should be fenced off because you have small children, if you travel with your pet, if you want a luxury villa in Tuscany with sauna or Jacuzzi, if you want stay close to a golf course or riding stables, or if your house has to have vineyards, tennis courts and swimming pool with whirlpool jets ...... ask us and we will offer various solutions to choose from at reasonable prices.

The luxury villa in Tuscany of your dreams is waiting for you.

Elegant villa in Florence countryside, near Gambassi Terme. The villa commands the typical Tuscan hills covered with olive groves and vineyards. Florence historic centre is easily reached with public transport. Sleeps 8, swimming pool, hydromassage, Internet connection.
7 days: min: 1315 € - max: 2070 €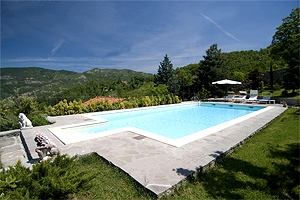 Luxury villa in San Godenzo, in Valdisieve, near Florence. Sleeps 6/13, swimming pool, gym, panoramic position, Internet connection, hydromassage.
7 days: min: 635 € - max: 2870 €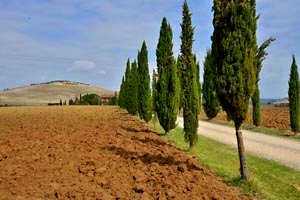 Villa (formerly a farmhouse) in Val d`Orcia , in Pienza ( Siena ). Sleeps 8+2, swimming pool, Internet connection, hydromassage, children`s toys. Spas, tennis courts and riding stable within a few kilometres.
7 days: min: 1390 € - max: 2400 €

Luxurious villa in Empoli countryside, between Volterra and San Gimignano, in the centre of Tuscany, in an equidistant position between Siena, Florence and Pisa. 8/10 sleeping accommodations, swimming pool, garden, children`s playground, Internet connection.
7 days: min: 1850 € - max: 3050 €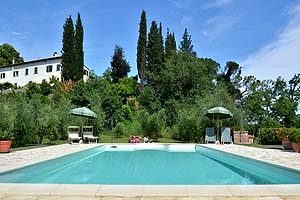 Historical Italian villa between Florence and Pisa, close to San Miniato, in Empoli countryside. 8+2 sleeping accommodations, Internet connection, wide garden, private parking and private swimming pool. Horseback rides, visits to a chocolate maker and a dairy with tasting experience, white-truffle hunting.
7 days: min: 1450 € - max: 2900 €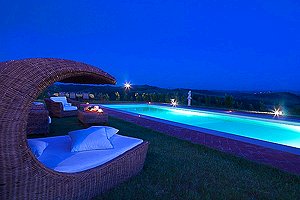 Luxury villa for vacation in Empoli countryside, in Certaldo (Florence). Sleeps 18/20, wide park, heated swimming pool, Internet connection, air conditioning, hydromassage, magnificent panorama.

7 days: min: 3500 € - max: 6500 €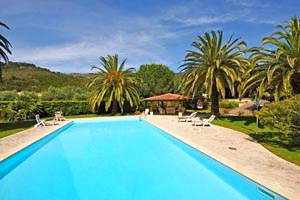 Peaceful and elegant villa with private swimming pool 1.4 kilometres from the beaches of Marina di Campo, on the island of Elba (Livorno). Sleeps 10, garden, barbecue equipment, hydromassage, Internet connection. Easily reached by ferry from Piombino. Within a few kilometres of Napoleon Bonaparte`s villa.
7 days: min: 2675 € - max: 4595 €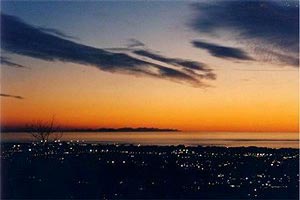 Exclusive luxury villa in Versilia, between Viareggio and Forte dei Marmi, near Lucca. Swimming pool, air conditioning, Internet connection. Wonderful panoramic position with view over the coast and the Tyrrhenian Sea. Sleeps 10/14. Tennis club, riding stable and golf club in a few kilometres.
7 days: min: 4000 € - max: 7735 €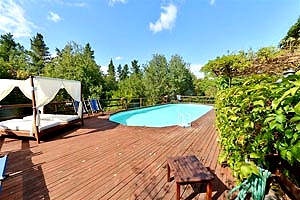 Tuscan luxury villa in Valdisieve, close to Donnini (Florence). 8 sleeping accommodations, swimming pool, Finnish sauna, Jacuzzi whirlpool bathtub, wood-burning oven, Internet connection.
7 days: min: 1700 € - max: 2900 €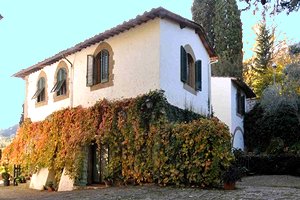 Elegant 14th-century villa on the hills around Florence, in proximity to Ponte Vecchio and Piazza della Signoria. Sleeps 12/15. Swimming pool, Internet connection, air conditioning.
7 days: min: 2800 € - max: 4800 €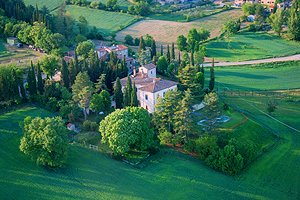 Ancient historic manor house in Sansepolcro (Arezzo), in Valtiberina. Sleeps 9, wide park, swimming pool, Internet connection. The villa has a private chapel for weddings. Tennis club, riding stable, golf club and spas within a few kilometres.
7 days: min: 1200 € - max: 1900 €